A camel glides across the golden sand, starting its long trek across the Sahara. Brickwork clads the medina, casting intricate shadows across the landscape. Palm trees seem to multiply across an oasis of spectacular scenery and hospitality. It is here, in Tozeur, Tunisia, where one of the world's most exotic adventures awaits, and in which one of the most highly anticipated hotel openings of the year is about to occur. Anantara Tozeur Resort is part of a well-heeled list of hotels and resorts that are making their debut this year as opportunities for luxury travel continue to expand and exalt in order to meet ever-increasing demand. Travel and tourism endure as one of the world's fastest-growing economic sectors; thanks to a strong global economy and a healthy sense of wanderlust, the $1.6 trillion the industry hit in 2017, according to Deloitte, is expected to further rise this year. Here are four places you'll want to spend some of those travel dollars.
The Retreat at Blue Lagoon Iceland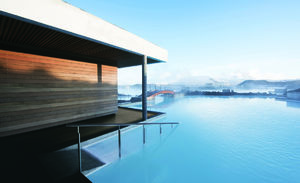 Leave the flip-flops, take the goose down. Luxury travel advisers are reporting that cold climes are hot for 2018. And we're not just talking Alaskan cruises; luxury travelers are considering locales that were previously populated only by exiled political operatives. Tourism in Finland, Norway and Antarctica is surging, but Iceland is the current frigid frontrunner. Those looking for a cool escape in Iceland will have a new luxury must-see this spring, with the opening of the Retreat at Blue Lagoon Iceland.
The Retreat takes your National Geographic-style icy expanses and adds in a one-of-a-kind volcanic landscape, a wellness bent, thanks to famed mineral-rich waters, and breathtaking views enjoyed through full-height windows and terraces.  The hotel presents 62 suites with "dramatic views of the moss-covered horizon, lava and the Retreat Lagoon — with some of the lower-level suites even providing private, direct access to the lagoon," says Dr. Grímur Sæmundsen, founder and CEO of Blue Lagoon Iceland.
True to its goal of remaining respectful of the natural surroundings, as well as the Blue Lagoon's founding principles, the Retreat will also offer the Retreat Spa, "which is built into an 800-year-old lava flow, and Moss Restaurant, offering guests a journey through Iceland's reinvention and heritage." The Retreat Spa presents the signature Blue Lagoon ritual, involving the "three treasures of geothermal seawater — silica, algae and minerals," while the centerpiece of the Moss Restaurant is a 10-seat chef's table composed of lava rock that was quarried onsite. A wine cellar was built into a vibrant lava cavern circa a 1226 eruption. The Retreat at Blue Lagoon Iceland is expected to start welcoming guests beginning April 2018.
Anantara Tozeur Resort Tunis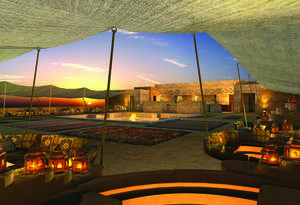 Anantara Tozeur Resort Tunis, the capital of Tunisia, is on the list of the 25 best places to visit in 2018, according to the world's leading travel experts curated by The Independent, but luxury travelers will soon be heading about five hours south to luxuriate in the new and already storied Anantara Tozeur Resort. This new upscale resort is at the crossroads of Saharan exoticism and modern luxury, with 93 dreamy guest rooms, villas and pool villas overlooking fields of palms that spiral out to desert dunes beyond.
"Anantara Tozeur Resort will celebrate the heritage of Tunisia while providing the luxurious touches and amenities that modern travelers demand," says Dillip Rajakarier, CEO, Minor Hotels. "Once a Roman outpost, Tozeur has always been a major stopover point for caravans traversing the Sahara, while the old medina of Tozeur, Ouled el Hwadef, is a treasure trove of traditional architecture and workmanship. Anantara Tozeur will celebrate the heritage of Tunisia while providing the luxurious touches and amenities that modern travelers demand."
While the city is filled with historic sites and important references, one particular aspect may help attract a certain type of traveler: Tozeur was a filming location for the Star Wars saga and Raiders of the Lost Ark, and the set constructed by Lucasfilm a few miles away still exists. "Anantara Tozeur Resort will offer a rich gateway to the splendid southwest made famous in the original 'Star Wars' movie, an oasis destination renowned for its ancient history, beautiful landscape and wide array of desert adventures," says Rajakarier. Anantara Tozeur Resort is set to open in mid-2018.
Rosewood Baha Mar, The Bahamas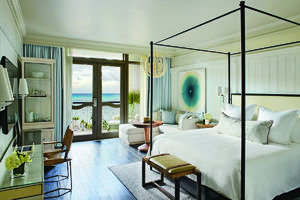 Rosewood Baha Mar, The Bahamas It's been more than 10 years in the making, but when Rosewood Baha Mar opens its doors this spring as the final point of the long-awaited Bahamian triumvirate, luxury travelers will have options like no other in The Bahamas. Following the opening of Baha Mar's SLS Lux and Grand Hyatt, Rosewood is set to bring a new level of luxe to the island paradise.
"Rosewood Baha Mar embodies the essence of the islands. With 237 guestrooms, suites and villas, five signature dining venues, a Sense spa, private pools and beach access, authentic Sense of Place programming, and an unparalleled level of service and attention to detail, Rosewood Baha Mar is poised to reset the standard for luxury in the Caribbean," notes Luigi Romaniello, managing director of Rosewood Baha Mar. "The guest experience at Rosewood Baha Mar will be marked with elegance and sophistication and will be more effortless and enchanting than you ever thought possible."
Accommodations at Rosewood Baha Mar are among the largest suites on the island, designed for tropical pampering and wrapped in British colonial architecture. They join Rosewood Baha Mar's exceptional array of amenities, which also include two restaurants and three lounges. In addition, the Baha Mar mega-resort, located on an exquisite expanse of Nassau's Cable Beach, presents a golf course designed by Jack Nicklaus, a 30,000-squarefoot spa, and a casino. Reservations are now being accepted for Rosewood Baha Mar beginning June 1, 2018.
Hotel Lutetia, Paris
Perhaps no hotel speaks to the history of artistic opulence like Hotel Lutetia, and, while you may not be able to consider a place that opened in 1910 a "new" hotel for 2018, the extensive renovation that is revealing a whole new Lutetia warrants inclusion on our list. This Grande Dame of the Left Bank has undergone a top-to-toe, front-to-back, four-year reimagining and restoration that "will honor the building's storied past while adding contemporary flair and innovative design," says Virtuoso.
One-quarter of the revived hotel's 184 accommodations will be suites, including seven individually designed suites and a penthouse. The hotel will also continue to showcase curated art and photography, paying homage to its artistic history, its bohemian location in the St. Germain neighborhood and its prominence among an intellectual and cultural crowd that included James Joyce, Ernest Hemingway and former residents Pablo Picasso and Henri Matisse.
"Hotel Lutetia is a unique monument to history and culture in a city famed for both qualities," says Albert Herrera, Virtuoso's senior vice president of Global Product Partnerships. "The extensive refurbishment of this beautiful legend will enhance its spirit and charm and usher it into a new era of serving 21st-century travelers while remaining true to the authentic soul of the Left Bank. Even in a city with many wonderful luxury hotel options, Hotel Lutetia's elegant blend of heritage and modernity will make it a true standout." Key elements of the hotel include renovated interiors overseen by Jean-Michel Wilmotte; an exterior restoration to shine up the art nouveau façade; the popular Lutetia Brasserie dining establishment; a new internal courtyard; the Jazz Bar Aristide; a cigar bar; and the 7,500-square-foot Akasha spa with a 57-foot indoor pool. The Lutetia will reopen this spring as a founding member of The Set hotels.