Sky-High Rates
From the lows of 3.22% in January to a high of 6.7% last week, rising mortgage rates have substantially impacted the housing market in so many ways. 
Back in 1989, gas prices averaged 99¢. It reached $1.59 in 2000, jumped to $3.11 in 2010, and was nearly unchanged at $3.04 a decade later in 2020. However, in 2021, the price for a gallon of gas jumped from $3.26 in January to $4.60 by year's end, a 41% increase. It was the largest rise since 2009. In 2022, gas prices soared even higher and sat at $6.40 to start October, up another 43%. Prices had nearly doubled since January 2021. From driving less, to carpooling, to combining errands, to eating out less, at these levels, consumers have adjusted their behaviors.
It has been similar for housing, and an even larger adjustment in consumer behavior, as not only have home values surged higher, so have mortgage rates. The combination of the two has rippled throughout the housing market. In Orange County, according to the Federal Housing Finance Agency Home Price Index, home values rose annually by 4.3% in 2020, the first year of COVID, up 15.9% in 2021, and surged to 22% higher through the 2nd quarter of 2022. That's when the median value of a detached home stretched to nearly $1.3 million, a mind-blowing 51% higher than January 2020's $855,000 median. Home values had reached unbelievable heights.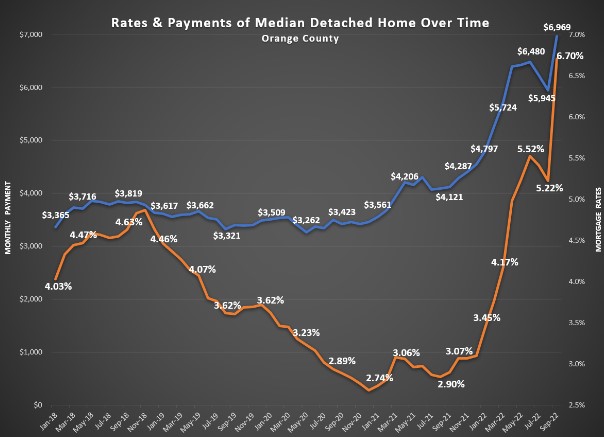 Excerpt taken from an article by Steven Thomas.