Housing Starting to Flex
After an extremely slow end to 2022, buyers are returning to the housing arena, demand is already up sharply, and  market times are plunging fast.  Pending sales are surging higher as housing bounces back from very low levels.
Getting to a movie theater early, sitting in the pews of an empty church with plenty of time until the service begins, and being seated immediately at a popular restaurant before the dinner rush are all examples of moments in time where it seems as if very few are going to show up. Yet, in the blink of an eye, the theater is packed, the church pews have been filled, and there is an hour-long waitlist at that favorite restaurant. That is precisely what is occurring right now in housing. A month ago, open houses were empty, showings were light, and there was little real estate activity as everyone's collective brains were still in a holiday fog. Seemingly overnight, buyers have returned, demand has surged higher, and market times have plunged. 
Demand, a snapshot of the last 30 days of pending sales activity, jumped 38% in just the past couple of weeks, adding 361 pending sales as it climbed to 1,300. It was the largest two-week rise since February 2021 and the strongest demand reading since October. The current level surpassed the low readings during the initial lockdowns of COVID in April 2020. Demand was lower than the lockdowns in December and January. 
It is crucial to keep in mind that demand is still at shallow levels for this time of year. It is 23% below last year at the start of February and 38% below the 3-year average before the pandemic (2017 to 2019). Due to affordability constraints, the high mortgage rate environment still precludes many would-be purchasers from isolating a home. Demand would be much stronger if rates dropped to the mid-5s. 
Demand is also muted due to the lack of available homes to purchase. From the first week of January to today, the inventory dropped by 5% and now sits at 2,415 homes. It usually rises by 13%. The 3-year pre-COVID average was 4,695, 94% higher than today. Feeding into this inventory crisis is that fewer homeowners are listing their homes. In January alone, there were 45% fewer sellers than the 3-year average, with 684 missing FOR-SALE signs.  Fewer sellers mean there are fewer pending sales and less demand.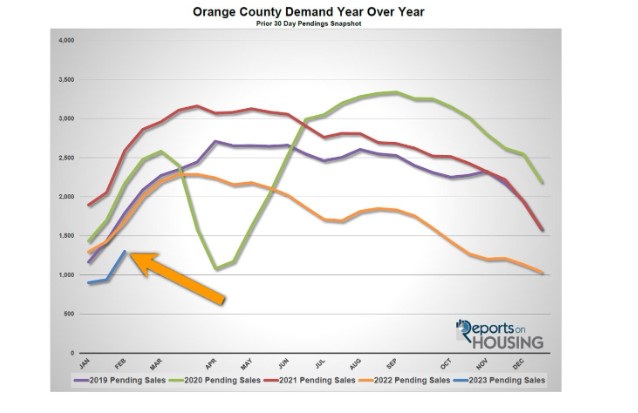 Excerpt taken from an article by Steven Thomas.