Supply Dilemma
In the past few years, there has been a severe inventory crisis initially instigated by the pandemic and now due  to the high mortgage rate environment.  Since the pandemic, there have not been enough homes available, and 2023 is no different.
The pandemic lockdowns began three years ago, in March 2020. Life came to an abrupt halt. Instantly, grocery shelves were ransacked as everyone prepared for an indefinite time in their homes. Many aisles were empty, most notably the toilet paper aisle. There was a run on toilet paper, and it lasted throughout 2020. In desperation, people resorted to shopping for rolls on eBay or Amazon and were willing to pay whatever price. It was simple supply and demand.
Similarly, the housing shelves have been seemingly empty since entering the pandemic, with very few homes available compared to pre-COVID inventory levels. In 2020 and 2021, fewer homeowners opted to sell their homes amid the pandemic. Orange County had 5% fewer sellers in 2020 compared to the 3-year average before COVID-19 (2017 to 2019), or 1,800 less. In 2021, it rose to 6%, or 2,300 missing sellers. Surging demand had an even more significant impact on shrinking the supply of available homes. From March 2020 to January 2021, rates reached 17 record lows. As rates plummeted, demand surged. As a result, the inventory reached record lows in 2020 and 2021.
The inventory finally began to rise in 2022 as rates soared from 3.25% at the start of the year to the mid-5s in June and July. Yet, rates rose further, surpassing 6% in September and 7% in October. Since 89% of all Californians have rates at or below 5% and 71% have rates at or below 4%, only some homeowners have been willing to give up their incredibly low fixed-rate mortgages and sell their homes. This "hunkering down" effect has resulted in a growing number of homeowners staying put. In 2022, there were 8,500 fewer sellers, 22% less.
Today, there are only 2,218 homes available to purchase in all of Orange County. There were 1,406 last year, catastrophically low and 37% lower than today. In 2021, there were 8% more. The marketplace is complaining about a lack of supply, just like they did in March 2021 and 2022. The lowest level by far before COVID was achieved in 2013 at 3,237 homes. That was 45% higher than the current level. The 6-year average from 2014 to 2019 for this time of year was 5,273 homes, an additional 3,055, or 138% extra, more than double. The current inventory level remains severely low.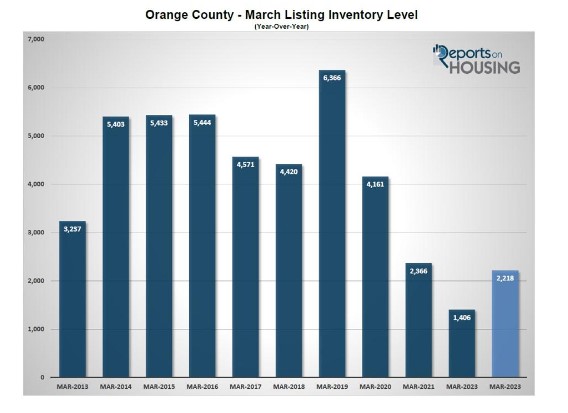 Excerpt taken from an article by Steven Thomas.