Multiple Offers Again?!?
The lack of available homes to purchase has resulted in buyers competing against each other to buy despite low demand.  Market Times have dropped like a rock since the start of the year, squeezed by not enough sellers.
In-N-Out has arguably the best cheeseburger. What started in Los Angeles has spread to nearly 400 locations in five states. They are also known for their long drive-thru lines. To avoid the long wait, many hungry, wise hamburger connoisseurs head over at a more favorable time, like 3 p.m. Unfortunately, to their surprise, they are greeted by an unexpected mile-long line.
Many buyers have a similar experience as they dive into today's housing market. After hearing about falling home prices due to sky-high mortgage rates, they expect housing to be slow so they can take their time and not compete in purchasing a home. Instead, they are experiencing long lines of buyers at open houses and multiple offers on homes priced right and in reasonably good condition. Home buyers are frustrated once again.
Ever since mortgage rates climbed above 6% in June, there has been a tug-of-war taking place between buyers and sellers: low demand, which favors buyers, pit against a low supply, which favors sellers. Last year, inventory kept growing until it peaked in August, while demand continued to drop after peaking in March with rising rates. Market times rose from 19 days in March to 45 days in June to 72 days in July. By November, the market time reached 89 days, drastically different than the first five months of the year. As market times grew, buyers had the upper hand. The pool of buyers evaporated due to affordability constraints. The remaining buyers were not tripping over each other to purchase, they were unwilling to overpay for a home, and the few houses on the market took longer to sell. The sense of urgency that characterized the market from June 2020 through May 2022 had vanished. According to the Freddie Mac House Price Index, as of January, the Los Angeles/Orange County region has dropped 8% since May and was down 2% year-over-year.
In January 2022, there were 1,100 homes available, and demand, the last 30 days of pending sales activity, was at 1,295. Demand was higher than the supply of available homes, and the market time was less than 30 days for all of Orange County. It was insanely hot, with way too much buyer competition, multiple offers, and sales prices way above the asking prices. With rising rates, the supply increased rapidly while demand was falling. In May, demand was less than the supply, which is normal. The difference between supply and demand grew. At the end of July 2022, demand dropped to 1,693 pending sales, and the inventory had reached 4,041. Supply was 2,348 higher than demand, the largest gap in 2022.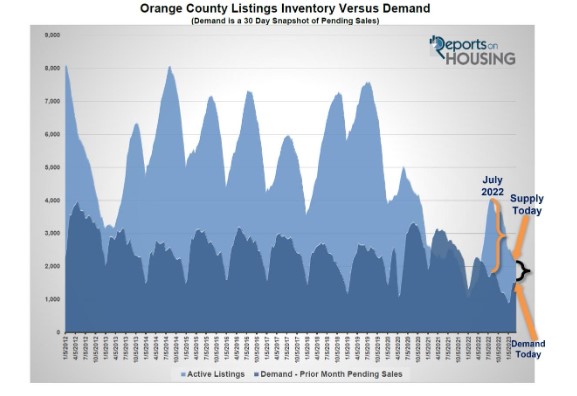 Excerpt taken from an article by Steven Thomas.