Different Flavors of the Market
The Orange County housing market is not the same for every price range; some are hot, while others are not.  The market is extremely hot in many price ranges, but the luxury end is the biggest exception.
The FOR-SALE sign is pounded into the front yard of a detached home listed at $1 million. It is in mint condition, nicely upgraded, on a beautifully landscaped, small lot. During the initial weekend, the Saturday open house is a success, with buyer after buyer bumping into each other to see the home. By Tuesday morning, the listing agent is sorting through ten offers to purchase the home. By the week's end, the seller comes to an agreement and accepts an offer at $1,025,000 that closes in 30 days, $25,000 above the list price.
An extensively upgraded luxury home is placed on the market with an entertainer's yard and panoramic canyon views and is listed at $2.5 million. Seven different buyers tour the home in the initial week. Quite a few people come through the weekend open house. The first week's activity is solid, yet no offers are generated. It is not until after surpassing the two-month mark that the sellers entertain their first offer. There had been some interest prior, but nobody was ready to step up and write an offer to purchase. A few days later, after back-and-forth negotiations, the seller comes to an agreement and accepts an offer at $2,325,000 that closed in 60 days, $175,000 less than the list price.
These two scenarios are both taking place right here in Orange County and are typical for their specific price ranges. Yes, the market is HOT, but the higher the range, the longer it takes to sell a home. The "FLAVOR" of the market depends upon a home's price point.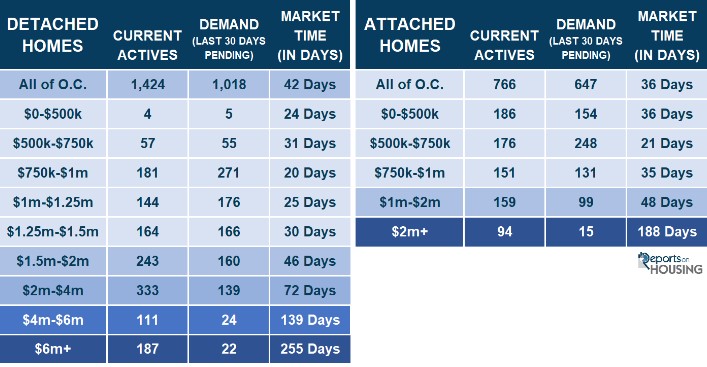 Excerpt taken from an article by Steven Thomas.