Affordability Challenges
When escalating home prices are matched with much higher mortgage rates, home affordability dramatically weakens and results in fewer buyers able to make a purchase.
In May of 2021, a gallon of gas cost $4.07. In January of this year, it had increased to $4.59, a rise of 52 cents in 8 months. It climbed to $5.66 a gallon in April, and then to $6.17 in May. That is a $1.58 jump in 4 months. Everyone is acutely aware of soaring prices at the pump. As consumers feel the strain in their monthly budgets, the rising fuel cost will begin to impact discretionary spending.
Mortgage rates have experienced a similar fate, climbing from 2.78% last August to 3.25% by the start of this year. They then jumped to 4.95% in April and sit at 5.25% today. This two-point rise since ringing in the New Year sidelined many potential buyers as home affordability has impacted the ability for many to qualify and purchase a home.
In looking at home affordability it is critical to look at home prices, household incomes, and the prevailing mortgage rate. Home values have risen sharply since the start of the pandemic. In fact, the national Case-Shiller Home Price Index increased by 20.6% year-over-year in March, a record rise. Higher prices were not a problem when rates were in the two's and three's and buyer demand was through the roof; however, today's 5.25% mortgage rate, according to Mortgage News Daily, is a significant jump that has squeezed buyers swiftly. As a result, the demand for Orange County Housing has weakened.
To understand where this weaker demand is coming from it is necessary to consider where interest rates and incomes have been historically and their impact on affordability. The chart below highlights how interest rates have been a lot higher and limit the price of a home that a buyer can afford. In 1980, the average mortgage rate was 13.75%, the median income was $22,000, and the median detached sales price was $108,000. That meant that the monthly housing payment was 55% of a homeowner's income. Rates continued to drop, and incomes climbed decade after decade.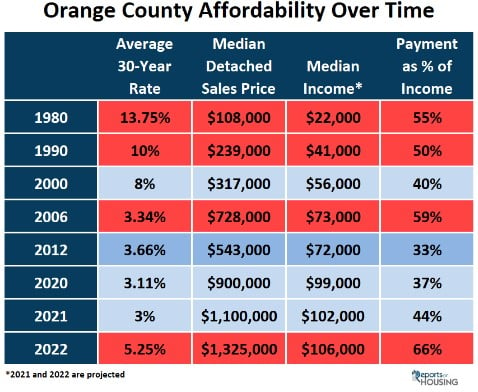 Excerpt taken from an article by Steven Thomas.