Values Rising
Despite the high mortgage rate environment eroding home affordability, home values in Orange County have been on the rise after bottoming in December. The catastrophically low supply of available homes will continue to propel a rise in home values.
Plenty of housing naysayers have been calling for a severe market correction ever since home values skyrocketed higher after the initial COVID lockdowns from June 2020 through May 2022, two years of rapid appreciation. Then with mortgage rates climbing sharply from 3.25% in January of last year to 7.37% in October, the naysayers' chorus grew much louder. Many anticipated a sharp decline in home values that rivaled the Great Recession. They can get quite emotional about their position. On the face of it, experiencing a swift rise in home values reminiscent of 2000 through 2005 and then the massive erosion in home affordability last year, it is understandable that some would conclude that prices would fall.  And they did for seven months last year, but that all changed after they bottomed out in December.
It is time to push the emotions aside and consider the facts, basic economic principles, and irrefutable data. According to the Freddie Mac Home Price Index, home values in the Los Angeles/Orange County region dropped by only .01% in March and April of 2020 during the initial COVID lockdown. They then reversed course and rose consistently for the remainder of 2020. In 2021, home values rose by 2% or more monthly from March through June. This level had only been achieved since the turn of the century in April and May 2002, April and July 2003, from February through May 2004, March through May 2005, and March through May 2013. Only 15 months out of 243 months before the pandemic. It occurred again in March 2022, five times in total in just two years.
Values peaked in May 2022 and then dropped from June through December. With rapidly rising rates and affordability reaching record lows, they fell by 1% or more in July, August, and November. This level had only been reached since the turn of the century from July 2007 through February 2009, 20 months straight. 
Year-over-year home values are down 4%, but the focus should be on the current monthly trend. Home values turned positive in January and have continued rising ever since. They are not increasing at the torrid pace of 2020 through the first several months of 2022, but the trend is up. Why are home prices not plunging with high mortgage rates and severe affordability issues? It all boils down to a catastrophically low supply of available homes.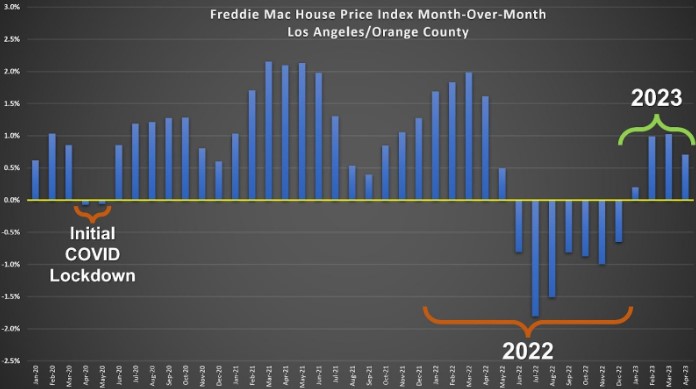 Excerpt taken from an article by Steven Thomas.