Values Will NOT Plunge
Many believe that the rapidly slowing housing market will lead to crashing home values, yet the facts do not support
this theory.
According to researchers at Penn State University, only 8% of the things that people worry about come true. From finances to job security to relationships to health, worry is everywhere. The collective mind seems to almost always jump to the worst-case scenario. It seems as if nobody is immune to worry. 
With strong inflation numbers, Wall Street volatility, and soaring interest rates, panic and worry is in the air. So many are jumping to the immediate conclusion that as housing slows, values will eventually plunge like they did during the Great Recession. They recall how home values surged from 2000 to 2006, only to plummet after the subprime meltdown in March 2007. Everyone remembers the deep scars from the worst recession since the Great Depression. 
Even though so many are anticipating and reporting that a housing crash is eminent, it simply is not going to occur, not now and not in the foreseeable future. Why not? Collectively, homeowners across the country were sitting in a much different position prior to the Great Recession compared to where they stand today. To best understand the differences let us take a closer look and compare the two.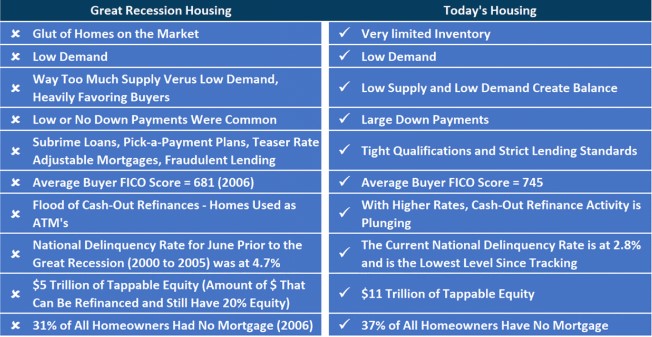 Excerpt taken from an article by Steven Thomas.