It's the Final Countdown!
The window of opportunity to take advantage of the Summer Market, the second best time of the year for selling, will soon be coming to a close.  Demand will remain elevated for the next month, but from there, it will decelerate for the remainder of the year. 
The Women's World Cup has started, and millions of soccer enthusiasts will be tuned in worldwide for the next month. There will undoubtedly be blowouts. But there will also be close games where fans will be on the edge of their seats anxiously watching the last seconds of the game tic down to zero. Similarly, the Orange County Summer Market is rapidly coming to a close. By the end of August, just a month from now, housing will transition to the Autumn Market. 
Spring is the best time to sell a home, from mid-March through the end of May when the kids get out of school. Demand peaks, and typically, inventory rises. The second best time of the year to sell is the Summer Market, from June through the end of August, when the kids go back to school. Buyers and sellers transact year-round, but families prefer to find a home during the spring or summer and close before the school year starts. Back to school means fewer buyers are yearning to make an immediate move. Buyers with children factor in the inconvenience and strain on their family in moving while the kids are in school. As a result, many buyers wait until the following spring to start the process all over again in isolating a home for their family. 
That means sellers coming on the market right now, or over the coming weeks, have very little time to take advantage of the summer season and successfully place their home under contract before housing decelerates and transitions to the Autumn Market. 
Demand, a snapshot of the number of new escrows over the prior month, seasonally drops slowly for the next six weeks until the Summer Market comes to a close at the end of August. From 2017 through 2022, the average drop was 2%. Orange County then transitions to the Autumn Market, and demand drops faster. The average decline for September was 6.6%, and 6.4% for October. In November, demand plunged, on average, by 9.8%. From September through November, demand dropped by 21%. Last year, it sank by an unprecedented 34% from September through November.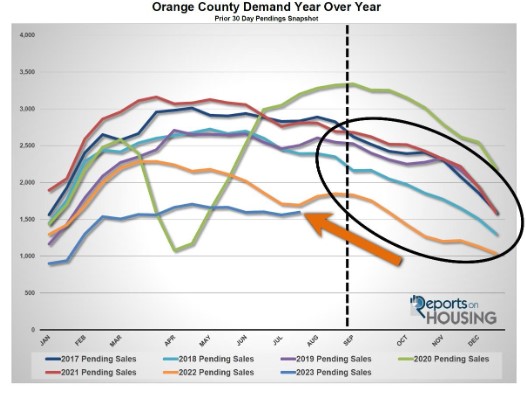 Excerpt taken from an article by Steven Thomas.