A SLIGHT Seller's Market
Even with muted demand due to the higher mortgage rate environment, the muted supply of available homes has allowed the Orange County housing market to continue to line up slightly in favor of sellers.
The insane pace of the housing market has come to an end and the instant marketplace has shifted to a much more normal, typical speed for this time of year.
Everyone seemingly has an opinion when it comes to the housing market. Forget economic models, data, charts, and statistics. Most believe that since values have soared to ridiculous heights and now mortgage rates have skyrocketed to their highest level since 2008, prices must correct. Yet, this kind of logic ignores facts. There is still a huge missing ingredient when it comes to housing, not enough homes. There is an absurd lack of homes available to purchase. Due to a lack of supply, the housing market continues to line up in favor of sellers.
The Expected Market Time (the time between hammering in the FOR-SALE sign to opening escrow) reveals the true speed of the market and is based upon supply and demand, the number of available homes to purchase and the number of buyers in the marketplace writing offers. The inventory is at 3,726 today, not quite as low as last year's 2,289 homes, the lowest start to September since tracking began 18-years ago, but well off averages prior to COVID. The 3-year average (2017 to 2019) was 6,569, a mind-blowing 76% higher, or 2,843 more than today. And the inventory peaked at the start of August and will now drop for the rest of the year. Demand (last 30-days of pending sales activity) is at 1,831, the lowest level to start September since 2007 and 32% less than last year. There were 851 additional pending sales last year. Current demand is off by 25% compared to the 3-year average prior to COVID of 2,438. Demand has definitely been impacted by much higher rates.
In pairing low supply with low demand, the Orange County housing market lines up slightly in favor of sellers. The Expected Market Time is at 61 days, a Slight Seller's Market (between 60 and 90 days). It has actually improved since the end of July when it was at 72 days. Yet, it is much slower than the 19-day level reached at the beginning of March.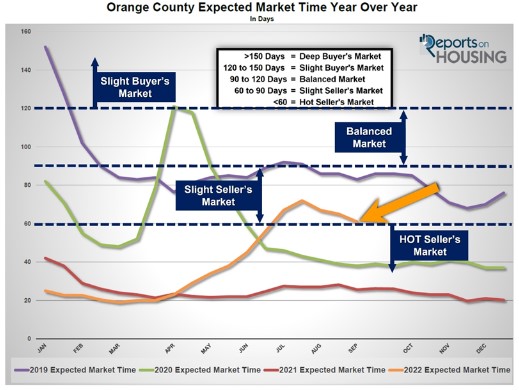 Excerpt taken from an article by Steven Thomas.