Sluggish, Yet No Slide Ahead
With sky-high rates and a collapse in home affordability, many wrongly conclude that there will be a wave of foreclosures and  it is just a matter of time before the housing market crashes. Collectively, homeowners across the U.S. are healthier than ever before, which will prevent distressed sales and a housing crash.
Fear. Worry. Uncertainty. These words describe how many people feel about today's housing market. Home values surged higher since 2022, and within the past couple of weeks, mortgage rates have climbed to heights not seen in 23 years. With home affordability at record lows, many argue that when the economy cools or slips into a recession, housing will collapse, and foreclosures will rise. After all, isn't that how the Great Recession unfolded? 
The general public often jumps to conclusions without looking at all the facts and trend lines. They remember the burn from 2008 through 2011.  Everybody was burned or knew someone hurt by the collapse in home values. The economy ground to a halt, and unemployment grew to levels last seen at the beginning of the 1980s. Thus, everyone is jumping to the worst-case scenario in their collective minds: housing must suffer.
It is imperative to immediately point out that just because mortgage rates have climbed towards 8% does not mean that values must go down, and many homeowners will lose their homes due to foreclosures or short sales. The Great Recession was fueled by a credit bubble inflated by loose lending standards, including subprime mortgages, pick-a-payment plans, teaser adjustable rates, zero down, and plenty of fraud. These high risk borrowers were susceptible to any adjustments in their rates or changes to the economy. Thus, a wave of foreclosures ensued.
Today, only four foreclosures and two short sales are available to purchase in Orange County; that is only six total distressed listings. Distress demand, the number of new pending sales over the prior month, is at one. Foreclosures and short sales represent only 0.3% of the active listing inventory and 0.07% of overall demand. Compare that to January 2009, when there were 5,104 distressed listings, 44% of the inventory, and distressed demand was at 1,428 pendings, 67% of total demand.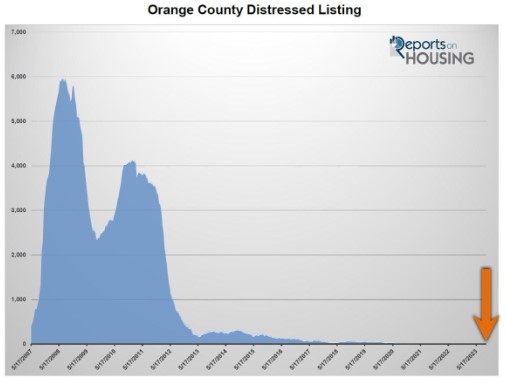 Excerpt taken from an article by Steven Thomas.