Rates Rise, Values Slip
As rates surge higher and affordability diminishes even more, smaller changes in market times shift the market in the buyer's favor.  An Expected Market Time of 60 days is considered a Balanced Market today, yet that level used to be a Hot Seller's Market prior to the run-up in mortgage rates that began in January 2022. 
Gasoline prices can undoubtedly fluctuate quite a bit. This year in California, prices ballooned from $4.25 in January to $5.90 at the beginning of this month. From August to October, gas climbed by $1. These quick shifts in prices squeeze wallets and change the way consumers behave. Some will wait up to 25 minutes at Costco to fill up and save. Others will eat out less or run fewer daily errands. As gas prices climb, people drive less, and demand for fuel drops.
Similarly, mortgage rates have been much more volatile and have jumped all over the place this year. According to Mortgage News Daily, rates bounced from 5.99% on February 2nd to 7.1% on March 2nd. They then dropped back to 6.18% on April 6th until they jumped to 7.14% on May 26th. Recently, rates surged from 7.08% on September 1st to 7.8% today. This rapid evolution in rates can quickly disrupt the housing scene. Buyers behave differently as budgets are squeezed and are less willing to stretch regardless of low inventory levels.
Supply and demand, the good old Econ 101 principle, illustrates that as prices increase, supply rises while demand declines. As prices drop, supply shrinks while demand grows. From supply and demand levels, it can be determined when the market favors sellers or buyers. A balanced market, equilibrium, does not favor a buyer or seller. 
Before the mortgage rate run-up at the beginning of last year, negotiations favored sellers when the Expected Market Time (the number of days to sell all Orange County listings at the current buying pace) dropped below 90 days. It was a Slight Seller's Market from 60 to 90 days and a Hot Seller's Market below 60 days. The market was balanced, not favoring buyers or sellers between 90 to 120 days. The market lined up in favor of buyers when the Expected Market Time was above 120 days. It was a Slight Buyer's Market between 120 to 150 days and a Deep Buyer's Market over 150 days. For perspective, during the Great Recession, the Expected Market Time soared to over 400 days, and bottomed at 19 days in March of last year.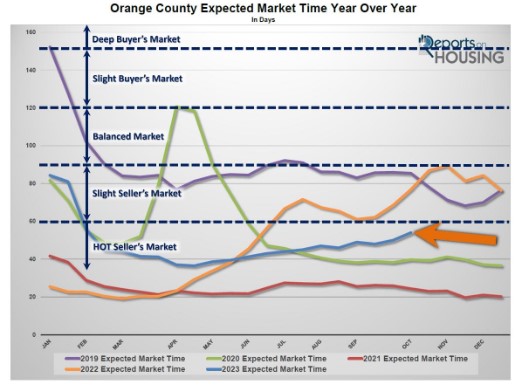 Excerpt taken from an article by Steven Thomas.