We're always looking for more space in our homes, it seems, whether for extra storage, an additional living zone or a new spot to decorate. Often, valuable space can be found in the basement, but fully developing this square footage can be expensive. Add up the costs of framing, flooring, drywall, electrical and finishes,and your project may run into the thousands of dollars. Introduce new decor, and you've got an even pricier endeavor.
But there are ways to enjoy that below-grade space while avoiding the hefty price tag of a full remodel. Partially finishing your basement can offer warmth, style and comfort, as well as that extra space you're craving. Here is how to get the most out of an unfinished basement without breaking the bank.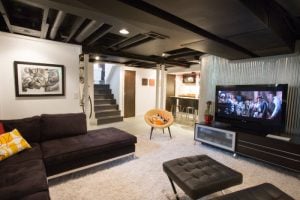 Create an Industrial-Style Living Room
1. Keep the ceiling exposed. This smart basement renovation reveals a key secret to enjoying a partially finished basement: Keep the ceiling open. We don't all have the advantage of deep basements with high ceilings, and we need all the help we can get, height-wise. While there are some stylish drop-ceiling panels now available, keeping the ceiling joists open and painting them a bold color, such as black, creates the illusion of depth, helping the ceiling to recede and become less noticeable. The added advantage is that your wiring is available to you without having to cut into drywall.
2. Ditch the drywall. Paint is quite often the quickest and least expensive way to freshen and update a room.
Another tip is to drywall only some areas of the room. A limited use of drywall can demarcate spaces, add interest and keep costs down.
Another unexpected and low-cost alternative wall material is an engineered lumber such as oriented strand board. OSB, which is typically used for subfloors or sheathing in construction — making it an unconventional choice for walls — is acreative, less expensive way to cover your concrete walls and divide living zones. The key to using a material like this is to apply it to a large area so that it's clear that using it was an intentional design choice.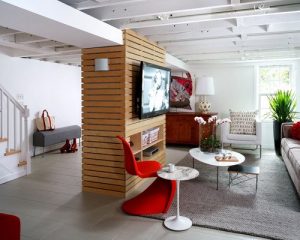 3. Capture the power of white. This basement obviously gets a lot of natural light, thanks to the fact that it is a walk-out basement-style space. But a great way to provide the illusion of light and to add ceiling height is to paint everything white. In this room, with the exposed ceilings and walls painted a crisp white, it's hard to tell where the walls end and the ceilings begin.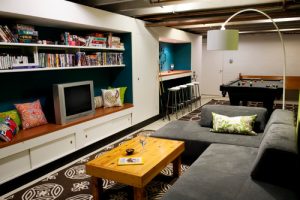 4. Establish a focal point. Go ahead and furnish your unfinished below-grade space as cozily as you would your upstairs, finished rooms. A great way to do this is to furnish around a focal point. Here, the designer created a focal point for the room by adding a bar and a shelving area with space for a TV, books and games. Graphic rugs and large, soft furniture and lighting bring warmth and life to the space.
Note that this basement is, like the other examples, mostly unfinished. The ceilings are open, the concrete block wall is painted, and it appears the concrete floor is as well. Finally, the owner chose white wall paint. This room shows how this simple formula for a basement can form the backdrop for a cozy living space. The finished decorative and soft furnishing elements add the comforts that make the space feel homey.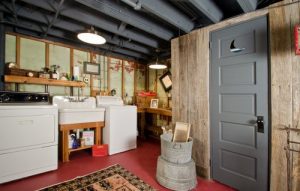 Outfit a Laundry Room
For many of us, basement laundry means a dark and dank place to toss the clothes in, pull them out and quickly run back upstairs. But this doesn't have to be the way we choose to live. A little effort can convert an ugly space to one where you'll want to spend time.
1. Get creative with paint and decor. This basement laundry is left nearly entirely unfinished, but with some creativity it's become a clean and bright corner nonetheless. The exposed ceiling joists are painted a deep charcoal, the concrete floor is a fun red, and wood shelving and furniture add interest and utility. A throw rug warms up the floor, and what appears to be reclaimed wood boards frame off a private bath.
2. Install cabinetry. The money saved on finishing flooring, walls and ceiling can often be better spent on cabinets in your basement laundry area. Additional cabinetry can be used for a variety of things, like storing dry goods, linens or out-of-season clothing.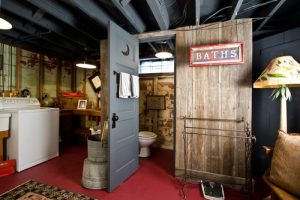 Build a Bathroom
Adding a bathroom to your basement can be a worthwhile venture. In addition to being functional, it adds a lot of value to your home. But basement bathroom additions are costly, especially if you don't already have the plumbing and drains roughed in. If you're lucky enough to have this option, finishing it on a budget will be rewarding.
1. Just do the basics. This bathroom, which abuts one of the laundry rooms I've featured, is mostly unfinished. Creatively sectioned off with wood planks and paint, it proves that a bathroom need not have marble and high-end finishing to be warm, cute and functional.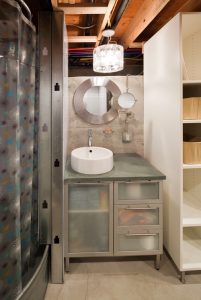 2. Dress up with shine. Another otherwise unfinished space with exposed ceiling joists and concrete walls and floor, this bathroom has all the components to be completely functional, yet also sharp. Stock cabinetry is added for necessary storage, and the mirror, lighting and accessories provide some glitz. Mirrors and other shiny accessories can be found at a variety of price points, helping you to stick with your budget.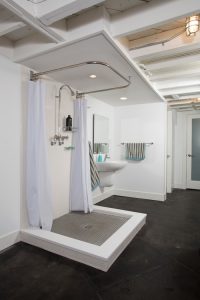 3. Leave it open. Another way to save some money in your basement bathroom is to skip the walls altogether. Here, a section of the basement is used for the bathroom, which is open concept. The shower is made out of a tiled curb with a curtain bar, giving it a modern look when privacy is not a concern. The toilet, not seen in this photo, is in a separate, walled-off enclosure behind the wall with the towel bar.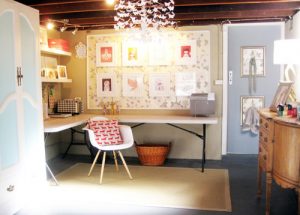 Workspace
Workspaces are often hard to come by, and if you can designate a corner for one in your basement, you'll be glad for it. Surprisingly, it doesn't take much to create a bright and functional zone out of, well, nothing.
1. Furnish and decorate. This basement office room works so well because it really has everything you need. Again, this is essentially a raw basement that has been cleaned up with paint. Two collapsible tables are tucked into a corner to create ample desk space. An antique-style armoire and side table add hefty traditional elements that dress up the zone and offer storage. An area rug warms the painted concrete floor, and the bright task track lighting is layered with the warm glow of a table lamp. The pretty butterfly mobile finishes this space.
2. Make a rug statement. Carpet tiles are a cost-effective option for basement flooring as they can be purchased by the box and laid out to separate a zone or add warmth to a bare concrete floor.
3. Make a spot for the kids. Kids come with a lot of stuff, from toys to books and crafts, and a neat little work area in your basement is the perfect spot to organize it all.