July jobs numbers bode well for real estate
According to the Bureau of Labor Statistics, Realtor.com and a report by Forbes' reporter Carolyn Feeney, the much-anticipated July jobs report released Friday morning offers a mixed bag for real estate. The good news is that the employment numbers are still tight, offering a kind of safety net for the housing market. But a weak increase in construction jobs promises little relief for the ongoing housing shortage and affordability struggles first-time buyers face.
The U.S. labor market showed a solid performance in July with the addition of 164,000 new jobs while the unemployment rate held steady at 3.7%. Wage growth also increased one-tenth of a percentage point to 3.2%, exceeding expectations. According to the report, July marks 106 straight months of job gains and cements the longest period of economic expansion in U.S. history.
How does all this affect real estate? With jobs in abundant supply, even those who lose their jobs should be able to find other positions quickly. Job security is related to consumer confidence, which fuels home buying demand and protects the overall stability of housing, according to Feeney. Low inventory is still a factor, however. A July data analysis by Realtor.com showed that inventory growth continues to shrink.
Realtor.com's Chief Economist Danielle Hale said in a recent statement, "It was only 18 months ago that the number of homes for sale hit its lowest level in recorded history and sparked the fiercest competition among buyers we've ever seen. If the trend we're seeing continues, overall inventory could near record lows by early next year."
New construction is the key. While health care, financial services, and technology industries see steady growth in employment, the jobs report highlights the construction industry's challenge to hire skilled labor as just one of the several barriers to ramping up new-home building.
The new Fed rate cut could offer benefits to people with adjustable-rate mortgages and commercial loans as well as spur bigger job gains moving forward and keep employment high. "Employers are hiring. People have money to spend. Houses remain an attractive purchase for Americans," says Feeney.
Source: Realtor, Forbes, US Bureau of Labor Statistics, TBWS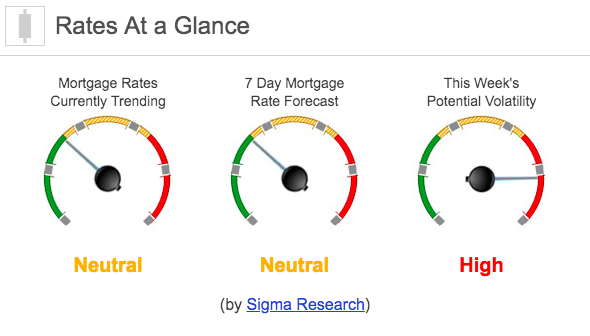 Rates Currently Trending: Neutral
Mortgage rates are trending sideways this morning. Last week the MBS market improved by +47bps. This was enough to move rates lower last week. We saw high rate volatility last week.