Foreclosure activity drops through most of U.S. in first half of 2019
It was not that long ago when one could drive through neighborhoods of lovely homes and see "for sale" signs up everywhere, vacant homes, and uncut lawns. The financial crisis causing the foreclosure of millions of homes was a scary time. The good news is that the days of rampant foreclosures resulting in scores of empty homes are thankfully now not even viewable in the rearview mirror throughout most of the nation.
According to a recent ATTOM Data Solutions report, foreclosure filings in the first half of 2019 are down 18% compared with a year earlier. Realtor.com's Clare Trapasso writes that the 296,458 filings in the first six months of the year represented an 82% drop from the worst of the foreclosure crisis in the first half of 2010, quoting the data company's chief product officer, Todd Teta. "Foreclosures are continuing to come down. Homeowners who can't make their payments are able to get out of their debt by selling their homes rather than going through foreclosure. Increased home prices are allowing them to sell the home for more than they owe."
The figures were judged by taking into account default notices, scheduled auctions, and bank repossessions in more than 2,200 counties to come up with its findings.
There are still a few metropolitan areas that are seeing a rise in foreclosure filings and price drops as a result — a point of interest for potential investors. Teta admits that because of price stabilization and increasing values, however, lenders are becoming more confident when taking a home through a foreclosure, knowing they might easily recoup or minimize their losses by foreclosing and then selling the home.
Source: ATTOM, Realtor, MarketWatch, TBWS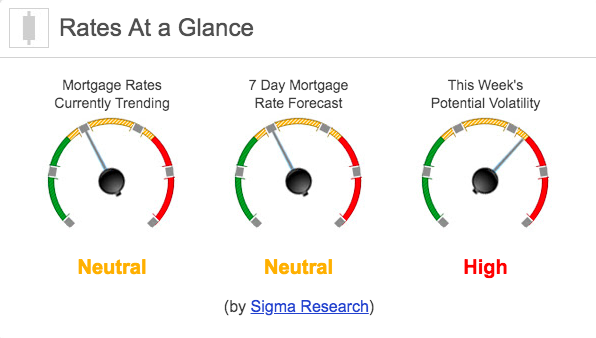 Rates Currently Trending: Neutral
Mortgage rates are trending sideways this morning. Last week the MBS market worsened by -22bps. This was enough to move rates slightly higher last week. We saw high rate volatility throughout the week.