Home sales report good numbers
Way to begin ending 2019 with a bang. According to The U.S. Census Bureau and Department of Housing and Urban Development reports home sales surged to surpass sales a year earlier by 31.6 percent, more than doubling the annual increase the prior month.
While sales of newly constructed homes were actually slightly lower than in September, sales during the month at a seasonally adjusted annual rate of 733,000, down 0.7 percent from September. That previous number, however, was revised from an originally reported 701,000 to 738,000 units. Sales in October 2018 were at the rate of 557,000 units.
According to Mortgage News Daily's Jann Swanson, "On a non-adjusted basis, there were 57,000 newly constructed homes sold during the month, unchanged from September but up from 43,000 a year earlier. On a year-to-date basis, sales have totaled 586,000 units, 9.6 percent more than during the same period in 2018."
At this point, 2020 might just turn out to be a good one for home sales.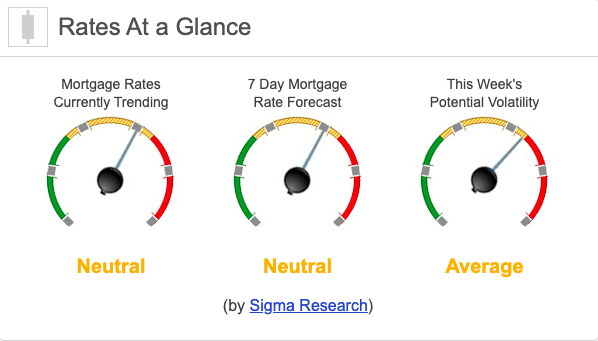 Rates Currently Trending: Neutral
Mortgage rates are trending sideways so far today. Last week the MBS market improved by +10bps. This caused rates to move sideways. We saw very low rate volatility all week.