Housing inventory expected to naturally free up over the next 20 years
It's being called the Silver Tsunami. Zillow analysts report that over the 2017-2027 period, 920,000 baby boomer-held homes will be freed up yearly, with 1.17 million materializing in the succeeding years, from 2027-2037. That means 20 million more properties, (approximately 27 percent of the current owner-occupied stock) will flood the market, as the elder generation passes on or gives up their homes.
Zillow's report says the boom compares to the construction onslaught before the recession and could counterbalance home-building in the next 20 years.
Arizona and Florida, the two states that have the most retirees, will have the highest inventory jumps, with boosts expected to top 30 percent. Zillow's economist Jeff Tucker explains, "In many parts of the country, the Silver Tsunami will dampen new-home construction, as a flood of existing homes vacated by boomers comes on the market. The places best situated to absorb that new inventory and still drive new construction are ones with booming job markets and plenty of buildable land."
The National Association of Realtors says that with inventory issues persisting, the boomer drop may be a kind of panacea for housing shortages, as existing-home inventory shrank to 3.9-months supply in October, compared to 4.3 months the prior year.
What is still in doubt regarding the supply side of real estate is the ability of the nation's builders to keep up with demand due to costs, labor, and land shortages. This means accessibility and affordability concerns remain, including the need to retrofit properties.
Changing demographics are a powerful force. Tucker adds, "Demographic trends are critical to the real estate industry because the most common reasons for home purchases and sales are demographic life events, such as births, deaths, marriages, and divorces. Along with job relocations, these factors drive the underlying demand for housing around the country, and at the population level they can actually be predicted fairly accurately."
Sources: Rismedia, Zillow, NAR, TBWS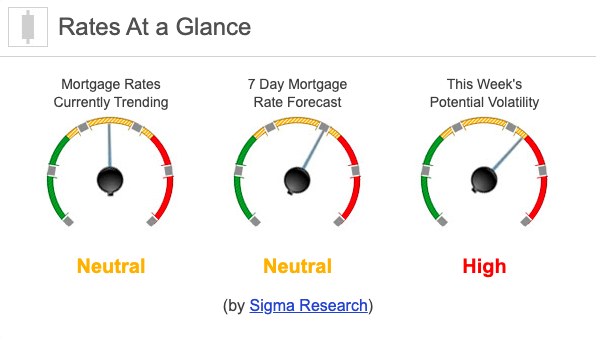 Rates Currently Trending: Neutral
Mortgage rates are trending sideways this morning. Last week the MBS market worsened by -2bps. This caused rates to move sideways for the week on low volatility.