Demand for homes is on a fast track for 2020
The demand for housing is coming at the market like a freight train, with the law of supply and demand on full display. The ongoing shortage of available homes for sale combined with a surge of homebuyers is forcing home prices up, according to Redfin. And where it stops, nobody knows.
HousingWire's Julia Falcon reports that homebuyers are not waiting for spring, as usual, to buy, heating up home buying competition early in 2020. "In fact, there were only 1.4 million units available for sale in December, the lowest level in at least 20 years, according to the National Association of Realtors," she says. She goes on to say that beyond that, December saw the largest year-over-year decline of housing inventory in almost three years, with inventory declining 12%.
Mortgage rates remaining historically low is a factor in all this. They are now at their second-lowest in three years. The double-edged sword in all this is that while low rates are driving some buyers into the market, they also contribute to many others holding onto their homes, happy to have their newly refinanced mortgage. Those with paid-off homes are enjoying the freedom of cash-out refinances at historically low rates, updating their homes and staying put.
"With every new release of data this year, I'm becoming more and more confident that demand will be strong in 2020—just as strong as, if not stronger than, in 2018 and 2017," said Redfin chief economist Daryl Fairweather. "The big question for the housing market this year is supply. Will homeowners sit on the sidelines, content with their refinanced loans, or will they want to get in on the action too and move up, move down, or cash out entirely?"
There was a time when we thought bidding wars were behind us, but that was short-lived. "A rise in bidding wars and a continuous spike in home prices may soon be the result of a 10-year peak in home buying demand and 20-year low in the number of homes for sale," says Falcon.
The silver lining in all this is that in some markets there will be some relief for homebuyers hoping for more selection in the form of newly-built homes. Add this all together, and with 11 months left in the year, 2020 may turn out to be the most robust housing market in nearly a decade.
Source: HousingWire | Redfin, | NARTBWS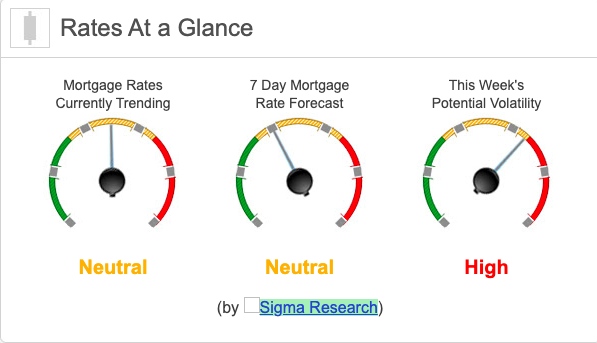 Rates Currently Trending: Neutral
Mortgage rates are trending sideways to slightly higher this morning. Last week the MBS market improved by +25bps. This was enough to move rates very slightly lower last week. We saw a bit of rate volatility last week.