Even with higher home prices, it's a great time to buy
Despite all the news about real estate inventory being low and prices consistently inching up, it's still a great time to buy a home, according to a recent report by Lending Tree, as reported by Realtor's Clare Trapasso.
"Mortgage interest rates, the number of foreclosures, and the amount of income buyers are spending on their mortgage payments all fell from 2010 through 2019. That's a win for buyers," says Trapasso, who also quotes Lending Tree's chief economist Tendayi Kapfidze: "If you are in a point in your life where you're considering buying a home today, it's a better time to buy than 10 years ago. If you can get a mortgage, you're getting much lower interest rates, and it enables you to afford more. But that also means that you're competing with more buyers, who are bidding up the prices."
Trapasso say that that is good news for aspiring homeowners contending with steep price increases, which reports median sales prices surged 53.5% between early 2012 and summer 2019, according to a realtor.com® analysis of sales data.
Lending Tree explains how those high prices were at least partially offset by the decline of the average mortgage rate by more than a percentage point from the beginning of the decade to its close. Although a drop of a few percentage points may not sound like much, it represents hundreds of dollars a year and tens of thousands of dollars over the life of a loan, depending on the amount borrowed. It also adds up to why buyers are spending less of their annual household income on their mortgage.
Says Kapfidze, "The great news is that people that do own a home are much healthier financially than they were 10 years ago. One reason is because of low mortgage rates. If you refinance, [you can] reduce your monthly mortgage payments."
Equity builds as well, according to Trapasso. "The total nationwide hit a low of $8.2 trillion in 2012, but the figure has since rebounded and then some, to $18.7 trillion in 2019." She adds that that's a big deal even for folks who are current on their payments. Too many foreclosures in a given area can lead to a decline in property values for everyone.
Source: Realtor.com | Lendingtree.com | TBWS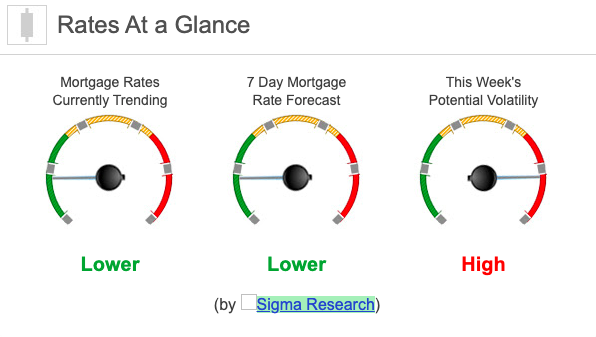 Rates Currently Trending: Lower
Mortgage rates are trending lower this morning. Last week the MBS market improved by +33bps. This was enough to move rates or fees lower last week. We saw moderate to high rate volatility at the end of the week.