Mortgage rates have fared better than anyone expected
Reflecting back on 2019, we discover that the mortgage market in 2019 had its best year since the height of the pre-crisis boom, even though it was anyone's ball game judging by what was going on early last year.
"Lenders extended $2.4 trillion in home loans last year, the most since 2006, according to industry research group Inside Mortgage Finance," says Realtor's Orla McCaffrey. "That was also a 46% increase from 2018."
Robust mortgage lending is always regarded as a good sign for housing, which has seen a rebound in price growth and home sales after a period of declining gains. "A refinancing frenzy, induced by last year's trio of interest-rate cuts, fueled the mortgage making and helped steady the industry," says McCaffrey. "The refinancing boom also bodes well for the broader economy, since homeowners saving on their monthly mortgage payments are likely to spend more on goods and services."
She goes on to quote Freddie Mac's chief economist Sam Khater, who says when a large and cyclical part of the economy—housing—is starting to improve, it's a good sign for the economy at large. Also cited is the Mortgage Bankers Association, which estimates that refinances made up 38% of mortgage originations last year.
The average rate on the 30-year fixed-rate mortgage, the most popular home loan in the U.S., dropped considerably by the end of 2019, and the average rate is now its lowest level in more than three months. December sales of existing homes jumped nearly 11% from the year before, according to the National Association of Realtors. While the uptick in mortgage lending is a boon, it does not mean it will be easy to buy a home this spring, according to McCaffrey. "Major barriers including a lack of housing supply and relatively tight bank-lending standards are pushing homeownership out of reach for many Americans." The price of homes continues to rise faster than incomes, meaning affordability will remain an issue. Still, there is an expectation that interest rates will hold steady or even keep falling — a good sign for mortgage lending in 2020, analysts say.
Source: TBWS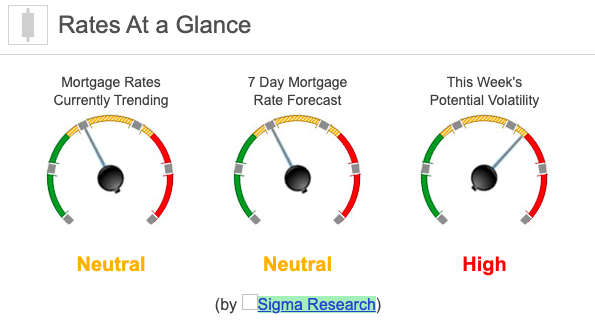 Rates Currently Trending: Neutral
Mortgage rates are trending sideways this morning. Last week the MBS market improved by +30 bps. This was enough to move rates or fees lower last week. We saw high rate volatility on Thursday of last week. Otherwise, there was very little movement.