The same reasons millennials want city-centered living now applies to boomers
They're built in the heart of the city, these high rise buildings close to restaurants, shopping, and entertainment. The demographic developers had in mind was millennials, who would prefer to walk their babies past five different Starbucks than live in suburbia.
What's happening, however, is the invasion of 50-65-year-old empty nester renters downsizing from homes in which they raised their offspring, mowed lawns and threw back yard parties. It's all about scaling down, simplifying, and eliminating the commute. This is evidenced by a recent Curbed article, where Patrick Sisson describes a Chicago high-rise on the lakefront.
"While the real estate preferences of millennials and young adults get the bulk of media attention, older renters actually have as much or even more to do with the last decade's upswing in downtown urban living," says Sisson. "According to the Urban Land Institute's latest Emerging Trends Report, urban growth has come from two distinct age groups. Over the last decade, the urban population of 20- to 29-year-olds grew by 4.7 million. But during the same time, the number of 55- to 64-year-olds living downtown grew by 10.3 million."
He goes on to say that while the new glass high-rises sprouting up in emerging downtown neighborhoods may be marketed to millennials, many of the units may end up being occupied by their parents.
"Developers have always focused on consumers with money," says real estate consultant John Burns in the Curbed article. "Even though some of these new developments are in areas people think are cool for millennials, those who can afford them are often in their late 50s and early 60s."
The idea of ex-surburbanites moving downtown once their kids are out of the house isn't anything new, but their numbers have skyrocketed over the last decade. According to U.S. Census Bureau figures, the 55-and-older demographic represented the largest jump in the renter population in the U.S., growing 38 percent between 2007 and 2017 (the number of renters over age 65 grew by 65 percent). For the 54-and-under age range, the percentage of renters only rose 10 percent.
What no one could predict was a trend for older Americans to both live and work longer than previous generations. In the past, when golden parachutes and final retirement checks were reason to celebrate and move to warmer climates, boomers haven't taken the bait. Renting can make more financial sense than holding on to a large suburban home, and the ease and simplicity of it make life easier. The reasons millennials would be drawn to city-centered living —transit access and proximity to retail and restaurants—are precisely the things drawing in older renters who consider a future of decreased mobility, the desire for less responsibility and a set of elevators delivering them to everything they could possibly need as they age.
Older renters are a major focus for developers, according to Sisson, who points out that a number of large national firms have product lines dedicated to older adults and seniors, including luxury options. Greystar has a series of projects under the Overture banner, meant for residents 55 and older. Carlyle Group is investing billions of dollars in the market. And Related announced a $3 billion urban senior living project with Atria.
Even the units themselves are morphing to meet the needs of these older buyers, with more two- and three-bedroom units to attract older residents looking for homes somewhere between starter-home and suburban-house size. Planning that focuses on senior living also includes fitness centers, bike repair shops, walkability — all things millennials want but may not be able to afford until their student loans are paid off and their kids are grown.
Source: Curbed | AppleNews | TBWS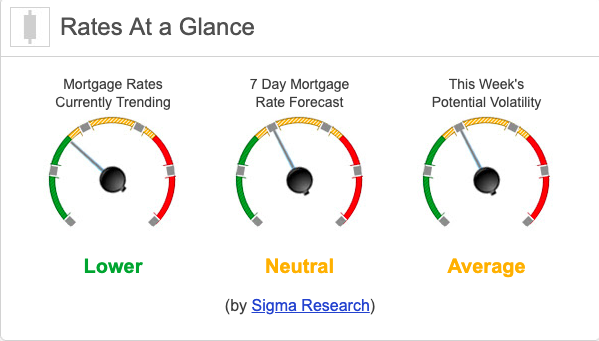 Rates Currently Trending: Lower
Mortgage rates are trending sideways this morning. Last week the MBS market improved by +21bps. This may've been enough to move rates or fees slightly lower last week. We saw moderate rate volatility through the week.