Single-family rentals continue to get more expensive
Apartment living has its advantages, but it seems today's renters are opting for single-family homes instead of schlepping their bags of groceries up elevators. More room for their pets to roam? Possibly. After all, it's reported that 75% of renters own a furry friend. All we know is that apartment rental occupancy rates hit an all-time low. Meanwhile, single-family rental prices have also surged.
CoreLogic reports that U.S. single-family rent prices rose 3% in September over August. If we compare this to last September, however, the national rent increase has remained flat. Looking around for comparisons, Phoenix saw the highest year over year rent price increase, 6.7%, while Miami saw the lowest, 1%.
Low rental home inventories seem to spur the growth of single-family rental prices. September is also the 65th month in a row where low-end rentals spurred national rent growth, according to HousingWire's Julia Falcon. "Rent prices among this segment, defined as properties with rent prices less than 75% of the regional median, increased 3.8% year over year in September 2019, the same as in September 2018," she says.
Upscale rentals (more than 125% of a particular region's median rent), increased 2.9% in September, slightly up from last September's 2.5%. But Phoenix is still the rising star, having seen the highest year-over-year increase for the 10th year in a row, at 6.7%. Phoenix also had an annual employment growth of 2.4%, which is higher than the national employment growth average of 1.4%.
"Metro areas with limited new construction, low rental vacancies and strong local economies that attract new employees tend to have stronger rent growth," says Falcon.
Source: CNBC, CoreLogic, TBWS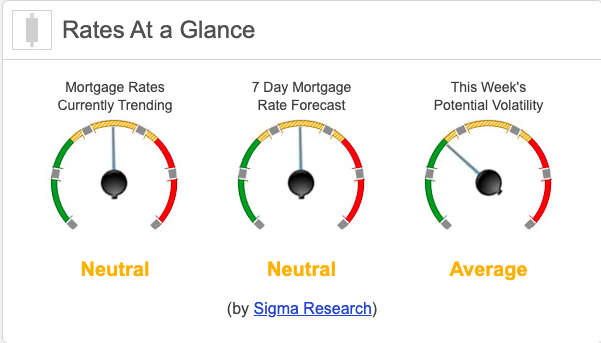 Rates Currently Trending: Neutral
Mortgage rates are trending sideways this morning. Last week the MBS market improved by +1bps. This caused rates to move mostly sideways for the week on low volatility.