Borrowers jump on board the refinance bandwagon as rates drop
When mortgage rates plummet to historically low levels, you have to expect a reaction from the borrowing public. And, as usual, they did not disappoint. Borrowers got themselves to their loan reps and began taking advantage of the market. According to the Mortgage Bankers Association (MBA), the volume of mortgage applications rebounded sharply last week as homeowners rushed to refinance.
Mortgage News Daily says, "The Refinance Index increased 14 percent from the previous week and was 133 percent higher than the same week one year ago. The refinance share of mortgage activity increased to 58.0 percent of total applications from 54.9 percent the previous week."
The article reports that although refinance activity slowed in September compared to August, the months together were the strongest since October 2016, and this is expected to continue. MBA' Joel Kan said, "Purchase applications also increased and remained more than 9 percent higher than a year ago. Low rates and healthy housing market fundamentals continue to support solid levels of purchase activity."
The FHA share of total applications decreased a percent, to 10.4 percent from 11.4 percent the week the previous week and VA loans followed, dropping to 12.4 percent from 13.1 percent. The average contract interest rate for 30-year fixed-rate mortgages (FRM) with origination balances at or below the conforming limit of $484,350 decreased as well, while the contract interest rate for jumbo 30-year FRM, loans with balances greater than the conforming limit, dipped 2 basis points. The article reports that both the contract and the effective rate for 5/1 adjustable rate mortgages (ARMs) moved higher.
MBA's Weekly Mortgage Applications Survey has been around since 1990 and covers over 75 percent of all US retail residential applications. Its respondents include mortgage bankers, commercial banks and thrifts.
Source: MorgageNewsDaily, TBWS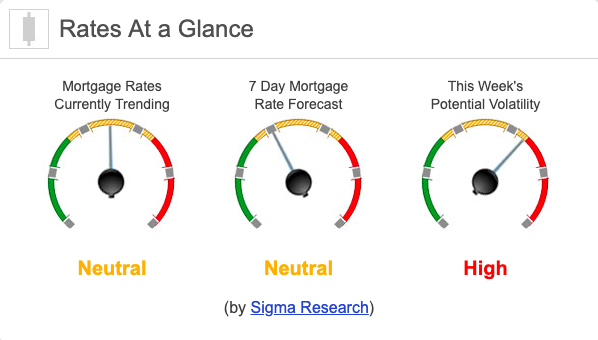 Rates Currently Trending: Neutral
Mortgage rates are trending sideways so far today. Last week the MBS market improved by +40 bps on moderate to high volatility. This was enough to improve mortgage rates or fees.