Dipping interest rates help single family home permits surge ahead of predictions
It's a numbers game, but it's one everyone in the real estate and the home building industry watches. While construction of new houses fell more than 9% in September, there is a now a backlog of permits suggesting the dip is simply a brief pause in a real estate market reinvigorated by lower mortgage rates, according to Realtor's Jacob Passy.
He adds that housing starts slid to an annual rate of 1.26 million last month from a revised 1.39 million in August, the government said Thursday, concentrated in new buildings with five units or more that typically get rented. Even though the number of permits to build fell slightly month-to-month, the number of permits filed was nearly 8% higher compared to a year earlier.
Construction of apartments, condo complexes, and other projects with five units or more have the potential to swing sharply from month to month. But new construction on single-family homes (about 75% of all homes sold) rose slightly to an annual rate of 918,000, marking the highest level since the start of 2019. Single-family starts have risen for four months in a row and are 2.8% higher compared to a year ago.
Passy says indicators illustrate that construction has perked up following a steep decline in interest rates, even though builders still are not producing enough new homes to satisfy demand.
Home-builder sentiment surged to a 20-month high of 71 in October from 68 in the prior month, the National Association of Home Builders said Wednesday. Readings over 50 are a sign that confidence is improving. Just 10 months ago, the index stood at a 3½-year low of 56.
Source: Realtor, MarketWatch, TBWS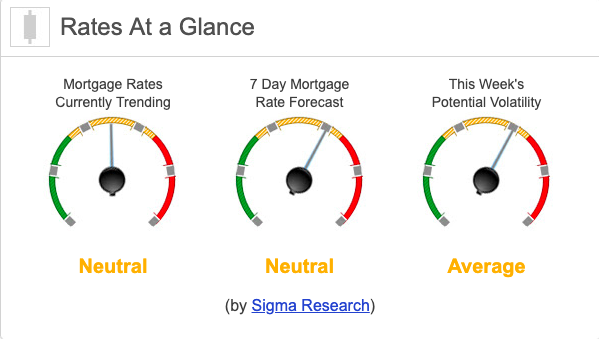 Rates Currently Trending: Neutral
Mortgage rates are trending sideways this morning. Last week the MBS market worsened by -7bps. This caused rates to move sideways on low volatility for the week.