Timely payments and a surge in refinances mean lower foreclosures
Mortgage "performance." Sounds like a fun financial song and dance, right? If you recall the days of heavy foreclosures, however, it's no joke, especially to the mortgage servicing industry. And according to experts who monitor such things, mortgage performance has markedly improved.
According to data from First Look at the latest mortgage performance data from actionable analytics company Black Knight, that foreclosure starts hit an 18-year low in August, at 36.2K for the month, down more than 23% from this time last year — the smallest it has been since 2005.
But that's not all. Mortgage holders are also looking to pay off their homes faster, with prepayments increasing by 5% from July to reach a three-year high, and August's prepayment rate was up 62% from the same time last year.
According to ATTOM Data Solutions, one in every 2,554 U.S. properties received a foreclosure filing during the month of August. Falling interest rates and a subsequent increase in rate/term refinances has helped to cause this surge in on-time payments and proactive borrowing.
A report in DS News says, "Falling rates and an abundance of refinance candidates were primary drivers behind servicers retaining 24% of all refinancing borrowers – the highest such retention rate since late 2017 – and 30% of rate/term borrowers specifically." It goes on to say that with interest rates at three-year lows, anecdotal evidence suggests that in recent weeks, mortgage lenders had been inundated with inbound refinance business.
Source: FirstLook, Black Knight, ATTOM Data Solutions, TBWS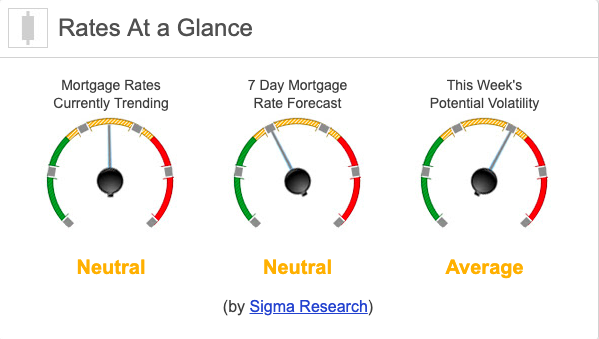 Rates Currently Trending: Neutral
Mortgage rates are trending sideways so far today. Last week the MBS market improved by +35bps. This was enough to move rates lower last week. We saw high rate volatility throughout the week.