Low rates may spur further home price growth as we move into 2020
If you've been waiting around to buy a home thinking prices would start stabilizing or getting reduced, think again. A new CoreLogic report is saying annual home-price growth will increase by 5.4% by July of 2020, representing a shift in the market.
What might cause this shift? Low interest rates. The S&P CoreLogic Case-Shiller index for home prices, a widely-cited barometer for the national housing market, evidently registered the slowest pace of home price growth since 2012 in June. A year earlier, home prices were rising at an annual rate of 6.3%. To boot, some major housing markets, such as New York, Miami, and Seattle, actually experienced a decline in home prices either on a monthly or annual basis. But home-price growth had become weaker as would-be buyers were priced out of these and other markets.
Now the index is registering a 3.6% uptick year-over-year in July, noting some parts of the country where prices had fallen, namely Connecticut and South Dakota. But that's pretty much it, according to an article by Realtor's Jacob Passy.
Recent home sales data now says sales activity has modestly picked up as consumers seek to grab on to low mortgage rates, which have fallen throughout much of 2019. Technically speaking, loan rates generally track the path of the 10-year Treasury note, so whenever you want to check trends, go there. Treasury yields have fallen in recent months amid compounding concerns related to trade tensions and the state of the global economy.
Passy quotes CoreLogic's chief economist Frank Nothaft, who says, "With the for-sale inventory remaining low in many markets, the pick-up in buying has nudged price growth up. If low interest rates and rising income continue, then we expect home-price growth will strengthen over the coming year."
As for how much growth in home prices may occur, this is no exact science. Passy says CoreLogic estimated that the real-estate markets in nearly one in four metropolitan areas were undervalued (at least 10% below what it determines to be the sustainable level where supply and demand are balanced).
Meanwhile, another 40% of markets were correctly predicted, meaning that roughly a third of markets nationwide are overvalued — and that could mean that price growth could slow or prices could fall if enough buyers are priced out of the market again.
Source: Realtor, TBWS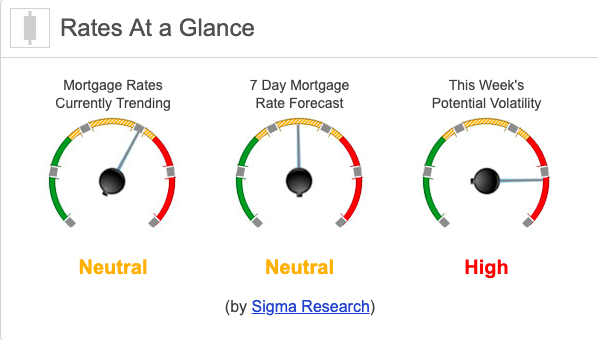 Rates Currently Trending: Neutral
Mortgage rates are trending sideways so far today. Last week the MBS market worsened by -5bps. This caused rates to move sides once again. Rates continue to trend sideways at historically low levels.