The Distressed Market
Fewer homeowners are opting to sell despite homes appreciating to record levels.
Remember the Y2k scare? It was when the calendar year changed from 1999 to 2000, the turn of the century. There were predictions of global chaos because computer programs would reset from '99 to '00, making the year 2000 indistinguishable from 1900. The programming error could potentially bring down electric grids, banking, airlines, and cash registers worldwide. Many feared that it would cause a global recession and airplanes would literally fall from the sky. As a result, people stocked up on food, water, backup generators, and withdrew large sums of money in anticipation of the coming catastrophe. Companies and governments worldwide worked with programming experts and took pre-emptive action in the years leading up to January 1, 2000. In the end, contrary to the public expectation, very few errors occurred, and a disaster was averted.
Flash forward to today and the general public fears that the national forbearance program will lead to a wave of foreclosures and cause chaos in today's sizzling hot real estate market. Everyone has heard of the vast number of homeowners who have turned to forbearance during the pandemic amidst economic shutdowns and slowdowns. Forbearance allowed borrowers to pause their payments. Repayment of the missed payments can be done all at once, with a payment plan, or often deferred to the end of the term of the loan.
Everyone seems to jump to the plight and struggles of the Great Recession and believe that the housing market is about to repeat itself. Yet, in August 2008, 9.2% of all U.S. mortgages were either delinquent or in foreclosure. By September 2009, it had risen to 14.4%. Today, 3.4% of all mortgages are in forbearance, which amounts to 1.7 million homeowners. The vast majority of those that remain in forbearance will perform and not become a foreclosure or short sale statistic. Why not? It is important to dive a bit deeper and take a look at the huge number who have already exited forbearance.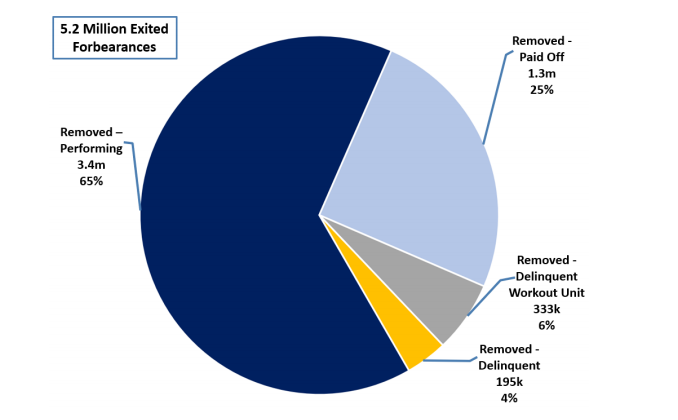 Excerpt taken from an article by Stephen Thomas.