An Ongoing Seller's Market
Housing has lined up in favor of sellers for years now and it is due to a low inventory of homes available to purchase coupled with strong demand boosted by historically low mortgage rates.
It is tough buying a home in today's housing market. A couple browses home after home until they find one worth seeing. After scheduling a showing, they write an offer to purchase because the house would be perfect for their growing family. It meets all of their requirements and it has the added bonus of a downstairs bedroom. Excitement and anticipation are in the air as they wait for a response. Their enthusiasm begins to dim as they find out that there are nine additional offers on their "perfect" home. After going back and forth with the seller, the buyers learn that they were not the winning bidder on the home. They have to go back to the drawing board and browse for their next opportunity.
This scenario plays out repeatedly across the United States, not just in Orange County. Many buyers find success, just not immediately. Other buyers, especially in the lower price ranges, write offers over and over again, but just cannot seem to get one of them accepted. It is frustrating and many buyers come to a point where they simply want to give up. Should they wait until the market slows and tilts more in the buyer's favor? Will it get easier anytime soon? Unfortunately, it will not get any easier and it does not make sense to wait to purchase.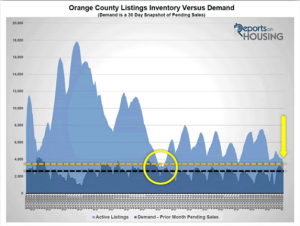 Excerpt taken from an article by Steven Thomas.