Going, Going, GONE!
When a record low number of available homes is matched with fierce pent-up demand, it results in an auction where homes sell immediately and for more than their asking prices. 
For over a century, the predominate way to sell a home in Australia has been by auction. The appeal of an auction is that homeowners believe they can get a higher price by forcing buyers to compete against each other in a bidding war. An auctioneer is hired to conduct the bidding process. The more that participate, the higher the price. It has been argued that the auction system has resulted in sky-rocketing housing prices.
In the United States, for the most part, homes are not sold by auction. Yet, talk to any buyer over the past couple of years and they would argue that the real estate purchasing process feels more like an auction than the conventional way of buying a home. There once was a time when homes generated only one or two offers and the overall temperature of the market was much different than today. With today's extremely limited inventory and throngs of buyers interested in every home that comes to market, a bidding war develops. The asking price can be seen as the "reserve price," the minimum bid acceptable to a seller. Often, offers that come in at the asking price do not excite many sellers, resulting in delays in response times until "better" offers come along.
Initially, record low mortgage rates paved the way for white hot demand. An unbelievable 17 record lows were achieved after the country slipped into a pandemic back in March 2020. The lowest rate was reached during the first week of January 2021 at 2.65%, according to Freddie Mac's Primary Mortgage Market Survey®, which dates to 1971. But recently, rates have dramatically climbed from 3.05% on December 23rd of last year to 3.55% as of February 3rd. That's a half of a percent in a very short period, and they are poised to rise further as the U.S. economy continues to improve. 
It is no longer low mortgage rates that are stoking the fires of demand; instead, it is the severe inventory shortage. The inventory has plunged to record lows, starting off the year at 954 homes. Today, it has risen slightly to 1,426 homes, but that is still far from normal. The three years average prior to the pandemic (2017 through 2019), there were 4,843 homes, an additional 3,573, or an extra 281% more, nearly quadruple. There are simply not enough homes available to match demand.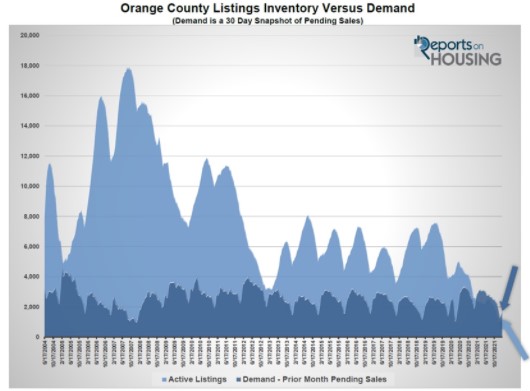 Excerpt taken from an article by Steven Thomas.