Out of Control
With the number of available homes to purchase at extremely low levels, there simply are too many buyers competing against each other.
 A three-bedroom, two-bathroom, 1,500 square foot home on a 10,000 square foot lot, built in 1972, was placed on the market on the first Wednesday of February at $999,000. There was a line going down the street to view the home during a three-hour window on Saturday and a three-hour window on Sunday. By Sunday evening there were more than 20 offers submitted to the listing agent. The seller countered to all offers and asked them to come back with their highest and best price. The home closed on during the first week of March at $1,200,000, an astonishing 20% above its list price. 
 Not every home sells 20% above its list price. In Orange County, the sales to list price ratio for detached homes so far in March is 103.5%. That means that the average closed sales price was only 3.5% over the asking price. An unbelievable 73.5% of all closed detached homes sold above their list price during the first few weeks of March. The median days on market is 6 days, less than a week. It would probably be even faster, but there are just too many offers to sift through.
The housing market is out of control as home values continue to soar. At this point, it is like a runaway freight train barreling down the tracks at an unimaginable speed. There really is no end in sight due to the catastrophically low inventory. With such a scarcity of homes available, there are far too many buyers for every home that hits the market. This imbalance can be seen in the sheer number of buyers bumping into each other, eager to view the latest new listing that hits the market. 
 It is extremely difficult to convey just how devastatingly low the inventory is right now. Today, there are only 1,556 homes available to purchase in all of Orange County. There were 2,349 homes last year, still tragically low, but 51% more than today. The number one complaint last year was that there were not enough homes to purchase, illustrating just how dire the issue has become. The lowest level by far prior to COVID was achieved in 2013 at 3,183 homes. That was more than double the current level. The six-year average from 2014 to 2019 for this time of year was 5,432 homes, an additional 3,876, or 249% extra, more than triple. The current inventory level is severely low and the main reason home values are skyrocketing.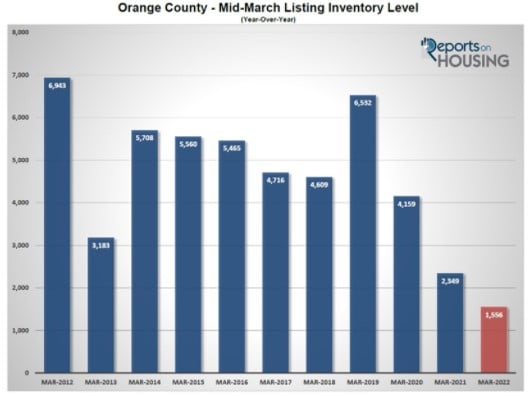 Excerpt taken from an article by Steven Thomas.