Housing Cracks
Even though housing is insanely hot, trends have emerged that confirm that the Orange County housing market is starting to cool.
Incredible, relaxing, memory-filled vacations come to an end. Ski seasons come to an end. The last pages of a good book come to an end. Binge watching a favorite television show comes to an end. Weekends come to an end. Seemingly nothing lasts forever. For the Orange County housing market, the incredible, insanely Hot Seller's Market will eventually evolve into something completely different, and that is beginning to take place right now.
Now that the first quarter of 2022 is in the rearview mirror, noticeable cracks have appeared that illustrate a cooling market. It is not as if housing has suddenly tilted in favor of buyers. No, multiple offers are still the norm, and most homes are flying off the market and into escrow just moments after FOR-SALE signs are pounded into the front yard. Buyers are still frustrated by the lack of available homes to purchase in all price ranges. Sellers remain in the driver's seat able to call the shots. Nonetheless, trends have surfaced that highlight a cooling marketplace that will eventually pave way to a completely different housing scene thanks to a dramatic rise in mortgage rates from 3.25% at the start of the year to 5.25% today (Mortgage News Daily).
CRACK – The current active inventory has increased by 60% since mid-January. From January 20th through today, the number of available homes to purchase has risen from 1,080 to 1,732, up an astonishing 60%, or 652 additional homes. The inventory has struggled to grow since 2020, the start of the pandemic. It is the largest gain since 2019. Today's level is still extremely anemic and far below normal levels, yet is a trend that demonstrates that not all homes are selling instantly. It will not be long before there are more homes on the market this year compared to 2021. Last year everything that was placed on the market was slammed into escrow. That is not the case today even with a muted number of homes coming on the market.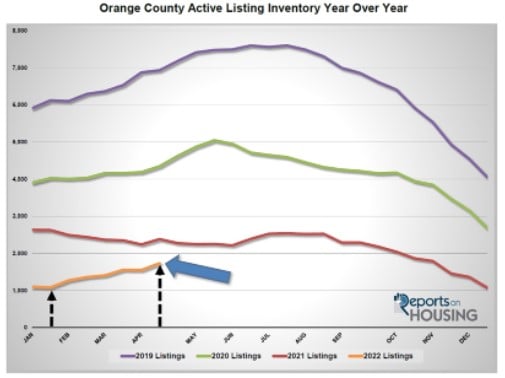 Excerpt taken from an article by Steven Thomas.