Hot November Housing
With an Expected Market Time of 41 days, in the midst of November, the Orange County housing market is hotter than the Spring Markets of 2014 through 2019.
This is the year when everyone is looking forward to the holidays. From the annual pilgrimage to the attic to take down the holiday decorations to preparing the extensive menu for the Thanksgiving feast, everyone cannot wait to enjoy a bit of a break from 2020. The festive season is at the doorstep with cooler nights, sunsets before 5 PM, and holiday tunes on KOST 103.5. It is time to slowdown and relax. Yet, that will not be the case for the Orange County housing market.
Just because everyone is sipping their favorite Starbucks latte from their recently unveiled holiday cups, does not mean that housing will slow this year. In fact, if a home is priced according to its Fair Market Value and is in great condition, it will procure multiple offers, a bidding war will ensue, and it will often sell for more than the asking price. Home values are on the rise. The difference this year is that there is an ultra-low supply of available properties to purchase and homes are flying into escrow nearly as fast as they are coming on the market. It is sizzling hot in the middle of November and the start of the Holiday Market, now through the first few weeks of January.
The Expected Market Time (the time between pounding in the FOR-SALE sign to opening escrow) is currently at 41 days, a Hot Seller's Market. The Expected Market time is the overall speed of the market, the lower the number, the faster homes are being placed into escrow. Anything below 60-days is considered a Hot Seller's Market. That is a market with a tremendous number of showings, multiple offers, sellers get to call the shots, and home values are on the rise.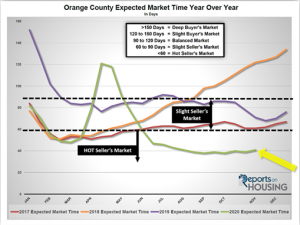 Excerpt taken from an article by Steven Thomas.