Will it Slow in 2022?
Housing has only grown hotter despite mortgage rates rising considerably since ringing in a New Year, indicating it will take further changes for the market to slow.  If mortgage rates rise above 4% and remain elevated with staying power, then housing will finally slow a bit, shifting from an Insane Seller's Market to a regular Hot Seller's Market with longer market times. 
Today's society is accustomed to getting information immediately and from a variety of different sources. Nobody really has to wait for the 5:00 newscast or the morning paper to get the latest news. Everything now can be found on the web and on a smartphone in an instant. The Wall Street Journal, CNBC, MSNBC, FOX, CNN, CBS, ABC, BBC, and the countless millions of other websites allow everyone to be plugged into all the constant world changes. It is reported live 24 hours a day, seven days a week. When a bad earnings report for a company is announced… BOOM! The company stock drops in an instant. The Consumer Price Index (inflation) rises a lot higher than estimates… BOOM! The DOW, S&P 500, and NADAQ all plummet immediately. Yet, changes in the housing market are far from instant. 
The transformation of the housing market occurs over time. It just does not change in the snap of a finger. Houses are not traded on Wall Street. They are not stocks that are easily bought and sold. Instead, they are homes, a place to rest, relax, and unwind, a place to start or raise a family. Everyone needs shelter and must live somewhere. It is understandable that in tracking housing, new trends slowly shift the tide and eventually reveal a change in the housing market. 
A new trend has emerged this year, rising rates. According to Freddie Mac's Primary Mortgage Market Survey®, 30-year fixed rates have risen from 3.05% on December 23rd to 3.92% on February 17th, nearly a full percent higher in only 8-short weeks. Yet, the market remains insanely, white hot. In fact, in the past two weeks, the Expected Market Time in Orange County (the time between pounding in the FOR-SALE sign to opening escrow) dropped from 23 to 20 days, matching levels reached in November and December of last year and the lowest level since tracking began 19 years ago. The market is growing hotter because that is what occurs during the Winter Market, when the inventory does not change much and demand surges. There are plenty of buyers bumping into each other at open houses and property showings, but there are very few homes currently available and not enough homeowners placing their homes on the market right now. More homes come on during the Spring Market, from mid-March through mid-June. Families prefer to place their home on the market during the spring, open escrow, and then close during the summer when the kids are out of school.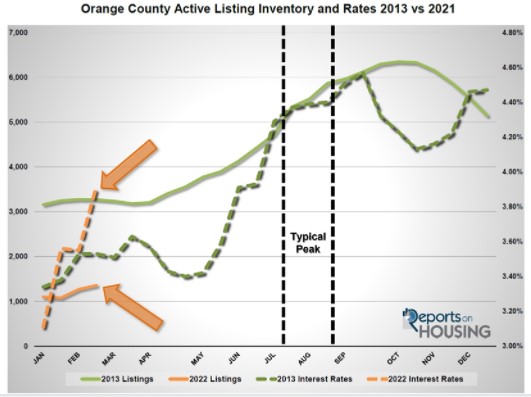 Excerpt taken from an article by Steven Thomas.