A WAVE OF FORECLOSURES?
Parents worry about their kids all the time. Often, their minds jump to the worst-case scenario.  As their newly licensed teenager drives down the street solo for the first time, mom and dad are concerned that their inexperience could result in a devastating accident.  Hiking as a family on on one of Southern California's many hilly trails often leads to unexpected sheer cliffs just feet away.  Many parents visualize the potential for one of their children to lose their footing and slip to their peril.  Parenting is full of anguish.  To keep their kids safe, they, unfortunately, must consider the most severe outcome that can reasonably be expected to occur in every situation.  Similarly, due to the recession, everybody is jumping to the worst-case scenario for housing, the inevitable wave of of foreclosures to come.
It is crucial to immediately point out the simple fact that just because the economy is in the middle of a recession does not mean that the housing market will tank, values must go down, and many homeowners will lose their homes due to foreclosures or short sales.  In fact, in the past five recessions, only two have led to declines in real estate values, the recession that began in 1991, and the Great Recession that started in 2008.  Both were fueled by asset bubbles in housing that eventually popped.  The recession in 1991 was powered by the savings and loan crisis.  The Great Recession was driven by subprime lending and risky investments in mortgage securities.  Thus, a wave of foreclosures ensued.
Today, there are only 11 foreclosures and 7 short sales to purchase in all of Orange County, that is 18 total distressed listings, the lowest level since initially tracking distressed listings began back in 2007.  It represents only 0.4% of the active listing inventory and 0.4% of demand.  Compare that to January 2009 when there were 5,104 distressed listings, 44% of the active listing inventory, and demand (the last 30-days of pending sales) was at 1,428 pendings, 67% of total demand.
The bottom line: do not count on a wave of foreclosures or short sales due to the economic fallout of the COVID-19 recession.  While there may be a bit more distressed in 2021, a slight rise, it will pale in comparison to the great recession.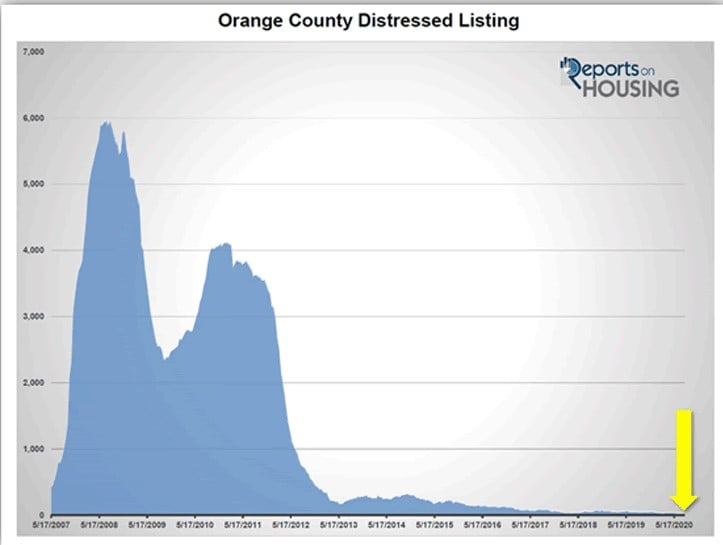 Excerpt taken from a report by Steven Thomas
Quantitative Economics and Decision Sciences, B.A.