Inventory Catastrophe
The inventory is at an all-time low and it is only going to drop from here.
In climbing into the family car to run errands, there are times when the fuel gauge light is on, a reminder that gas is needed as soon as possible. At this point some people decide to wait to and save a few minutes and get the job at hand completed. Watching the "miles remaining" dwindle on the instrumental panel can be unnerving. When it reaches zero, panic sets in and pushing it any further becomes a gamble. Finally, after waiting until there are drops left in the gas tank, the car rolls into a gas station, running on empty. 
The active inventory has been running on empty all year long. There are fumes left in Orange County's housing market tank. The inventory hit an all time low in June at 2,214 available homes to purchase. It then dropped below that record low at the end of September and has been falling ever since. In fact, it has shed 1,071 homes in the past three months, down an astonishing 42%. In just the past two weeks alone, the inventory plunged by 19%, or 336 homes, the largest drop of the year, and now totals 1,457, signaling the start to the Holiday Market when both supply and demand sink to their lowest point by New Year's Day.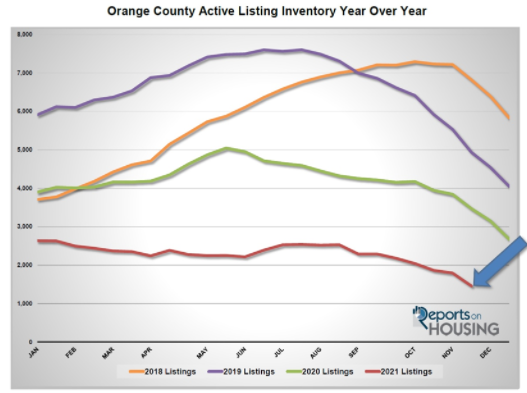 Excerpt taken from an article by Steven Thomas.