Housing Insanity: When Will It End?
Interest Rates Juicing the Market
Historically low rates have led to the Expected Market Time dropping to 23 days, the lowest level for this time of year since tracking began in 2004. 
For Los Angeles Angels fans, prior to 2002, it seemed that their team would never make the World Series. The Major League Baseball franchise was founded in 1961, and it took them 41 years until they reached the pinnacle games. They had only earned 3 trips to the playoffs prior. As a fan, there were more losing games than winning games, so any vision of hoisting the World Series Commissioner's Trophy was more of a daydream. There was no light at the end of the tunnel, until the Angels made the playoffs with a wild card berth in 2002. They became only the second team ever to win their solo World Series appearance.
Similarly, for buyers waiting for the market to slow and turn more favorably towards the home shopper, there seems to be no light at the end of tunnel. Housing has lined up in favor of sellers since 2012. Many thought that the pandemic would slow housing, create a deep recession, and erode home values, giving buyers that much desired edge. Instead, rates plummeted to record lows, demand escalated, the inventory of homes available plummeted to unfathomable depths, and home values soared to unbelievable heights. The pandemic led economic recession lasted only two months, and it did not touch the housing industry.
Values have climbed more than 20% year-over-year and the pace of Orange County housing has not slowed much at all this year. The Expected Market Time (the amount of time between hammering in the FOR-SALE sign and opening escrow) is currently at 23 days, an unbelievably Hot Seller's Market. A Hot Seller's Market is defined as a market time below 60-days, the lower the level, the hotter the market. At 23-days, the market remains insane with plenty of showings, multiple offers, and sales prices above their list prices. At this point, what will decelerate the market enough to allow housing to transition away from a Hot Seller's Market to a Slight Seller's Market, Balanced Market, or even a Buyer's Market? Rising mortgage rates. That is precisely what occurred in 2013 and 2018.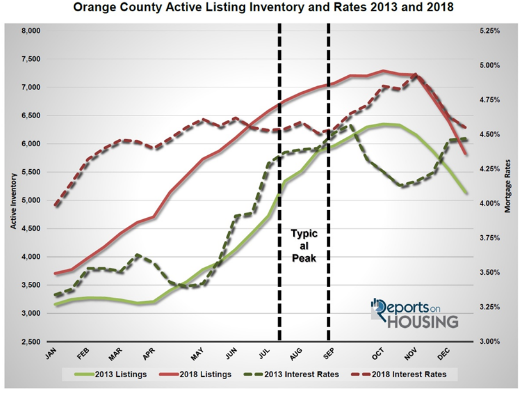 Excerpt taken from an article by Steven Thomas.