A 2021 Forecast
HAPPY NEW YEAR!!!  Now, what does that mean for Orange County real estate?
The year started with an active inventory of 3,692 homes, only the third time it dropped below the 4,000-home threshold to start a year since 2004. Typically, the inventory continuously climbs until peaking between July and August, but not this year. After adding only 1,352 homes, it peaked at the end of May at 5,044 homes, its lowest peak since reporting began in 2004. The average peak since 2004 is 7,241.
COVID-19 suppressed the inventory in Orange County. Many homeowners simply did not want to place their homes on the market amid a pandemic. From March through June, there were 4,655 fewer home placed on the market compared to the five-year average, 29% less. The Coronavirus lost its grip on preventing homes from coming on the market from July through November. In those five months, there were 1,694 additional homes that came on the market compared to the five-year average, an extra 11%. Nonetheless, from January through November, there were still 3,150 overall missing FOR-SALE signs, 8% fewer than the five-year average.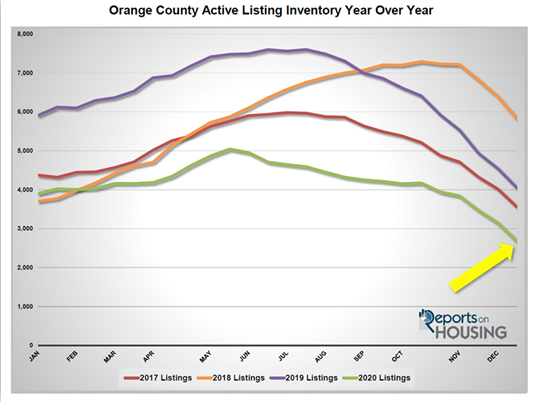 Excerpt taken from an article by Steven Thomas.