Or, perhaps you've had a pool for years and are looking to enhance the experience by adding some new features. As pool trends continue to emerge, you'll have a plethora of choices. Here are just a few.
Dark-colored pool finishes
Instead of traditional light-blue pool surfaces, some people are opting for darker colors, such as azures or cobalt blues that make the pool look deeper and convey a lagoon-like effect. In addition to looking great, dark colors absorb more of the sun's heat, increasing the water temperature and thereby reducing pool-heating costs.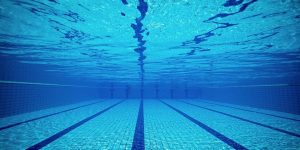 While pools traditionally were designed with a shallow end that gradually sloped to a deeper end, more people are now choosing a single-depth pool – also known as sports pools – because of the versatility it offers. This design is ideal for many fitness and sports activities, including basketball or volleyball, and also makes lap swimming easier.
Sun shelves
Sun shelves, also known as Baja shelves or tanning ledges, are a new favorite feature for homeowners.  These flat, shallow sections are an ideal place for adults to enjoy the pool without getting fully submerged and young children to play. They are also a perfect spot for adding a lounge chair or beach umbrella.
Ledge loungers
If you've ever stayed at a resort, you know how comfortable and relaxing it can be to soak in some rays while dipping your feet in the pool. If you have a sun shelf or Baja shelf, it's easy to add this furniture to your backyard pool. Simply submerge it into your pool, let it fill with water and pull it onto the ledge. Make sure you choose durable loungers made of high-quality materials that can withstand the elements.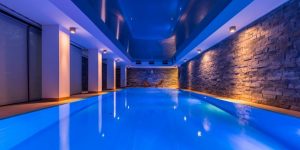 LED Lighting
Pool lighting can serve an aesthetic and functional purpose in your pool design, enhancing the ambiance of the setting by creating dramatic focal points in your pool and the areas surrounding it. Today's customized LED lighting systems offers different colors and qualities, such as a soft glow, to add visual interest. Around the pool, lighting can illuminate pathways and steps, as well as landscaping and patio areas.
With more options than ever before, you can customize your backyard pool to fit the needs of your family and create your perfect backyard oasis.